Versatile Bicycle with Electric Assist: A Game-changer for Modern Commuters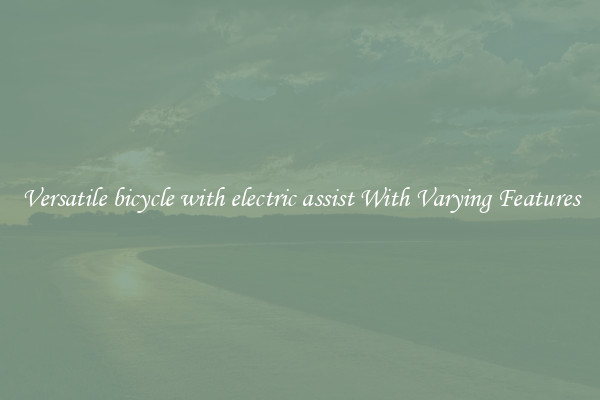 In the hustle and bustle of today's fast-paced world, finding a reliable mode of transportation that is both efficient and eco-friendly can be a challenge. However, thanks to advancements in technology, a versatile bicycle with electric assist has emerged as a game-changer for modern commuters.
Unlike traditional bicycles, these innovative electric bikes are equipped with a motor and battery system that provides assistance to the rider when needed. This feature allows cyclists to travel further distances and tackle challenging terrains with ease, while still getting the benefits of exercise and keeping the carbon footprint to a minimum.
One of the key features of these versatile e-bikes is their varying levels of electric assist. Riders have the freedom to select from different assistance levels, depending on their individual needs. Perhaps you're faced with a hilly commute or carrying heavy groceries home - simply increase the electric assist level for an effortless journey. On the other hand, if you're in the mood for a workout, you can lower the assistance level and pedal away at your preferred intensity.
Another advantage of these electric bikes is their versatility. With the option to switch between electric power and manual pedaling, riders can adjust the level of exercise and autonomy they desire throughout their journey. This adaptability makes them suitable for a wide range of users, from commuters looking to avoid traffic congestion to fitness enthusiasts seeking a thrilling outdoor experience.
Moreover, with the introduction of various features, these e-bikes are truly designed with the rider's comfort and convenience in mind. Some models come with built-in lights for enhanced visibility during night rides, while others are equipped with smart technology that allows riders to connect their smartphones and monitor their performance. Additionally, many e-bikes offer sturdy racks and baskets to carry belongings or even transport children.
Apart from being efficient and versatile, these bikes also contribute to creating a cleaner and greener environment. By encouraging the use of electric power instead of relying solely on fuel-driven vehicles, they significantly reduce carbon emissions and air pollution. This not only benefits individual riders but also contributes to the larger goal of building sustainable cities.
In conclusion, the advent of versatile bicycles with electric assist has transformed the way we commute and travel. With their varying features, riders can enjoy the benefits of exercise, conquer challenging terrains, and customize their level of assistance, all while reducing their impact on the environment. Whether commuting or seeking adventure, these e-bikes are a perfect solution for modern commuters who prioritize both efficiency and sustainability.